Join us online for this free festival celebrating French-speaking cultures. This year will be the 9th edition of this popular event.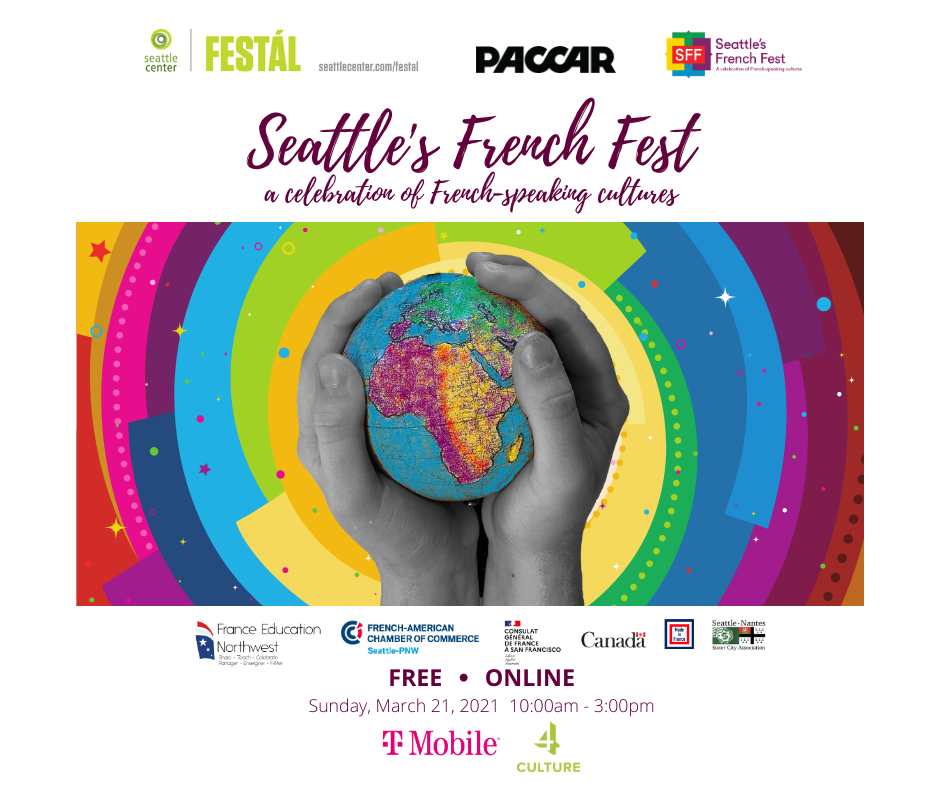 Now in its nineth year, Seattle's French Fest is a part of the Seattle Center's FESTÁL cultural event series. This free, public festival celebrates the diversity of the traditions, ideas, dialects, and more, that comprise these Francophone (French-speaking) cultures from around the world. It draws its inspiration from "International Francophonie Day," organized in over 100 countries every March 20, to celebrate the diversity of French-speaking cultures and traditions.
French Fest is organized by the nonprofit organization, France Education Northwest, with the support of Seattle Center FESTÁL, the French-American Chamber of Commerce of the Pacific Northwest, in partnership with the Consulate General of France in San Francisco, the Consulate General of Canada in Seattle and the Swiss Honorary Consulate in Seattle. With the support of the Consulate General of Canada, we are pleased to introduce you to this year's MC, Frédéric Choinière. We are thrilled to have him here representing a part of the francophone community!
Schedule
Sunday 21 March 2021

| | |
| --- | --- |
| 10:00 - 10:15 | French Fest 2021 Official Opening |
| 10:15 - 11:15 | Conference: Choose Quebec |
| 11:30 - 12:15 | Roundtable with Mrs Roots and Made in France Team |
| 12:30 - 01:15 | Culinary Experience |
| 01:30 - 02:30 | French Schools and After School Programs in the Puget Sound |
| 02:30 - 03:00 | Game by the Seattle Nantes Sister City Association |
French Fest 2021 Official Opening & Conference: Choose Quebec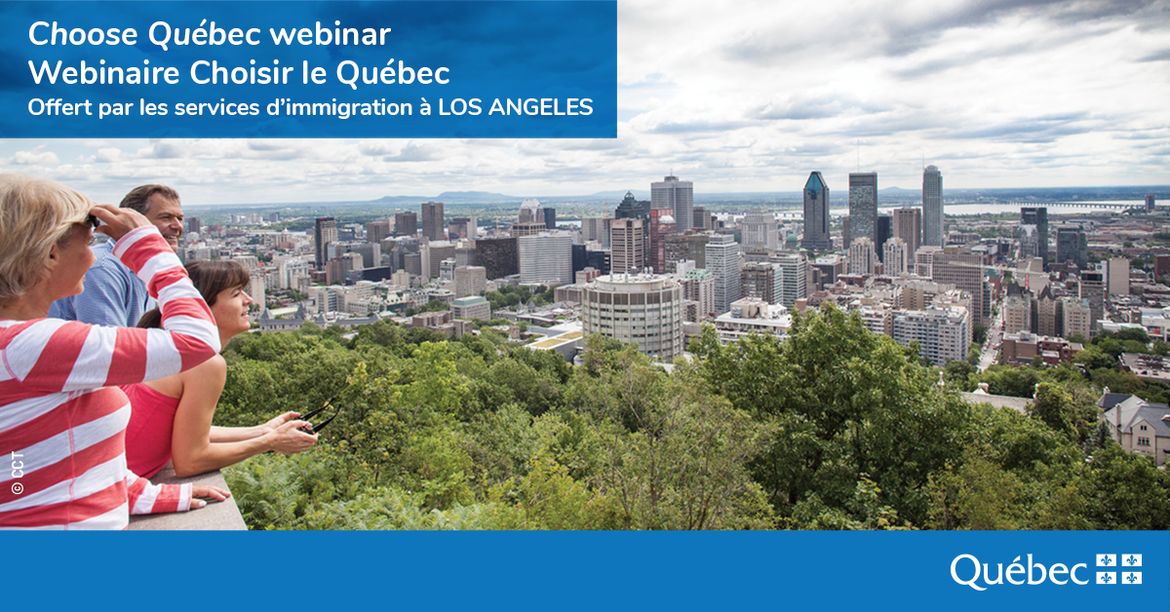 OFFICIAL OPENING
Frédéric Choinière, Master of Ceremonies
Didier Poirier, FEN President / Ariane Ogier, FACC-PNW & FEN Executive Director
Frédéric Jung, General Consul of France in San Francisco
Brandon A. Lee, General Consul of Canada in Seattle
Philippe Goetschel, Honorary Consul, Consulate of Switzerland in Seattle
Lisa Herbold, Council Member - City of Seattle
Choose Québec (Canada) webinar
LIVE ONLINE session hosted by France Education Northwest and presented by the Québec Government Office in Los Angeles.
Are you interested in pursuing your studies, getting a professional experience, or starting a business in Québec?
Darijo Bosnjak will answer your questions about:
- Life in Québec
- Secondary and higher education
- Labor market
- Immigration programs
- Business opportunities
Roundtable with Mrs Roots and Made in France Team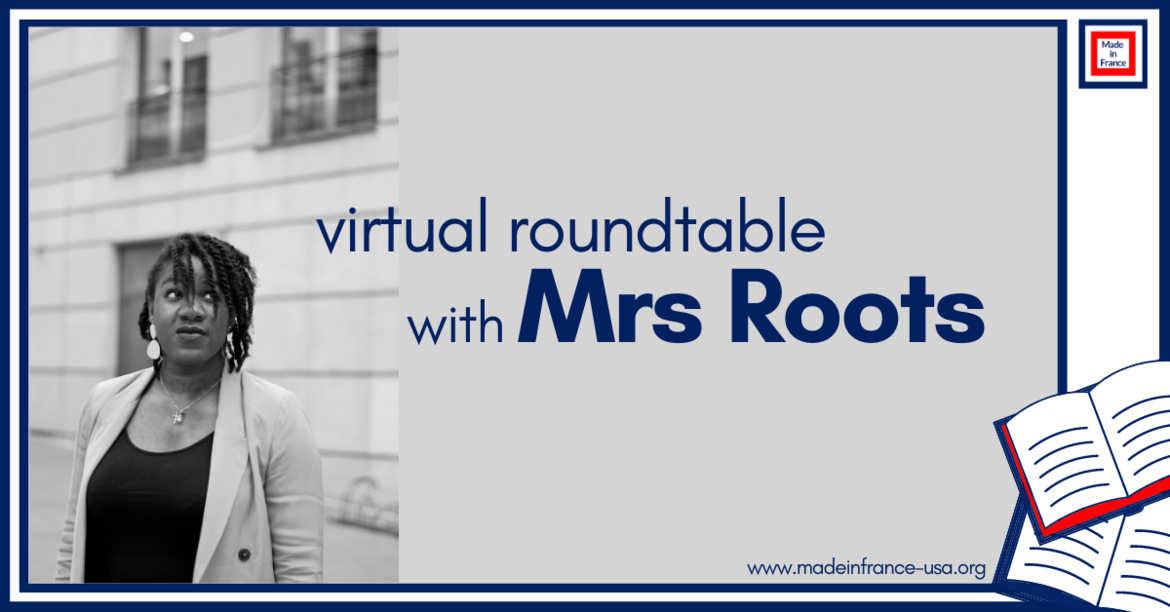 Join us for a virtual roundtable with the young members of non-profit organization Made in France and Laura Nsafou, also known as Mrs Roots.
Laura is a French blogger and author. She stands out by being one of the many women to defend literature and afro-descendants authors.
Culinary Experience
We have the pleasure to welcome 4 French Chefs!
- Come learn how to cook: Moules Marinières with Chef Didier Poirier, who will do a live demonstration of preparing Moules Marinières, a classic French dish from Brittany with fresh local Penn Cove Mussels, onions & spices in a white wine marinade
- After this live event, Garrett Abel with teach us about varieties of both French and local cheese and how to design your delicious cheese plate for any occasion
- Pastry Chef Michel Lallaison will then show us how to bake a classic French Apple Pie with local Pacific Northwest Apples
- Finally, Pastry Chef Orphée Fouano will share his secret for preparing "Mousse au Chocolat à l'Ancienne".
French Schools and After School Programs in the Puget Sound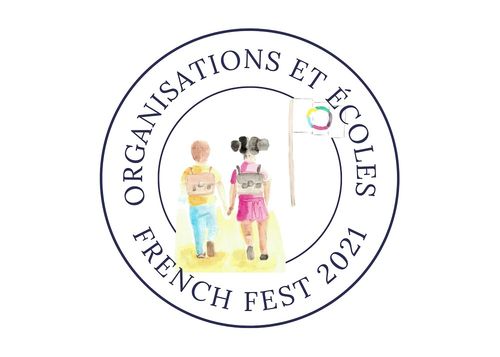 Interested by the Francophone and French cultures? The Greater Seattle area has many schools and after school programs that teach French or teach through French. They have prepared for you activities, games, little movies, presentations… They will also answer your questions.
Winning Prize:
Schools and after-school programs will offer an assortment of Children English and French books and the Alliance Française de Seattle will offer a free Culturethèque account (valid one year). Culturethèque is a multimedia e-library by the Institut Français, which offers thousands of French-language books, magazines, comics, but also videos, podcasts and resources for French learners.
Schools
Come and discover four independent schools that are dedicated to educating bilingual students: French American School of Puget Sound, French Immersion School of Washington, Les Lilas French Bilingual community School, North Seattle French School. Our programs are unique, offering engaging and challenging curricula taught by outstanding teachers in French and English.
After School Programs
Come and discover four after school programs that offer French classes and activities in French for all ages: Alliance Française, EFGS, French Bilingual Association, French Mornings Preschool.
Game by the Seattle Nantes Sister City Association
Participate in a Kahoot trivia game with Seattle-Nantes Sister City Association!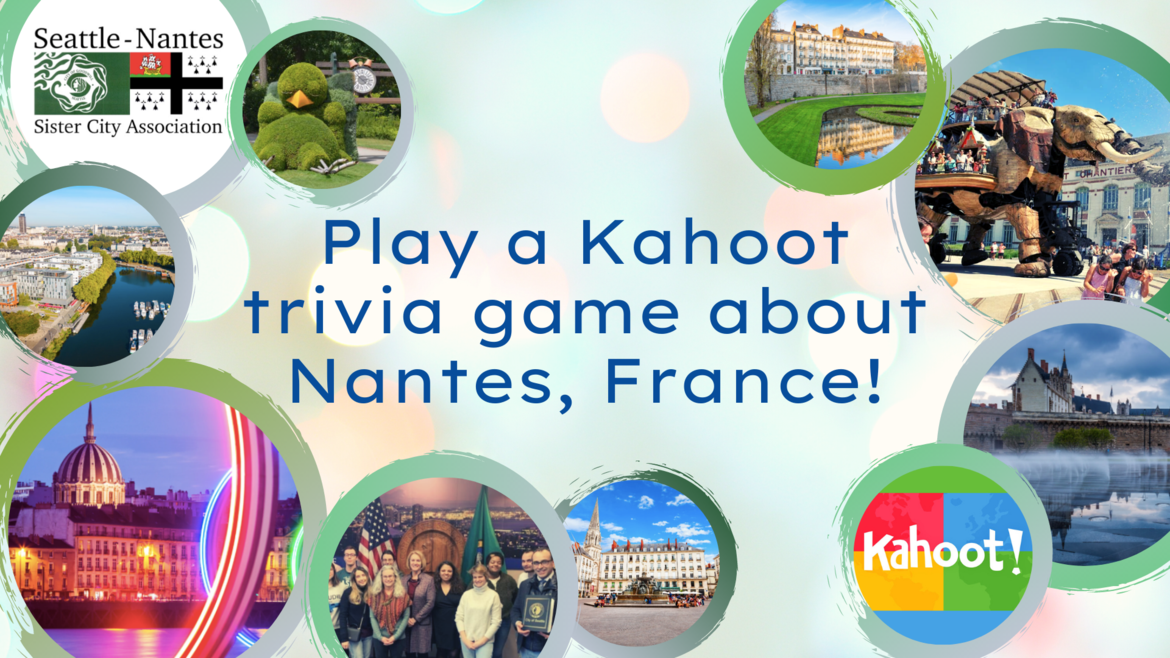 Introduction speech: Lisa Herbold, Member of the Seattle City Council
Founded in 1980, Seattle-Nantes Sister City Association just celebrated 40 years of friendship between Seattle and Nantes, France. The Association is composed of individuals and organizations interested in promoting close ties between the people of the two cities. Our goal is to advance educational and cultural relations between the Seattle and Nantes and to inform and educate the public about Seattle's sister city.
Participate in our live session to learn about the association's activities and exchanges and to test what you know about Nantes with a Kahoot game. The winner will receive a prize!
Categories for the Trivia Game
- About SNSCA
- Famous Sites in Nantes
- Food and Wine
- Famous People
- History and Geography
Thank you to all our sponsors