COVID-19 • Communication - Press Tourisme - Loisir - Culture
French Fest Cancelled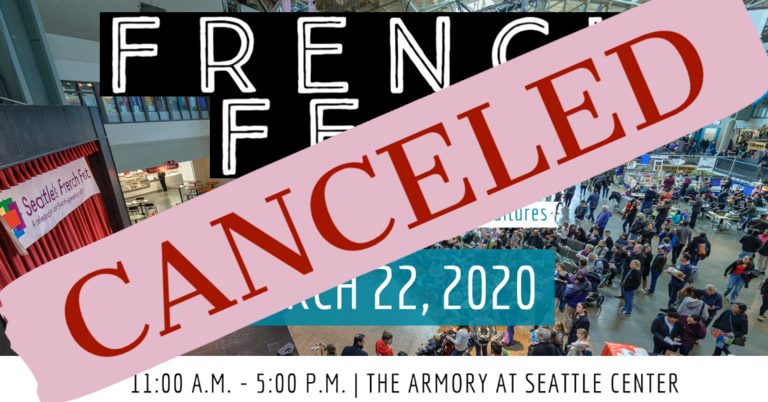 Seattle's French Fest is one of many events to be cancelled due to COVID-19. Please consider a donation to help offset the costs of these cancellations and to support future cultural programming.
Donate Now | Public Health Recommendations
In light of the current COVID-19 situation, we have made the difficult decision to cancel the 2020 edition of Seattle Center Festál: Seattle's French Fest: A Celebration of French-Speaking Cultures, which was due to take place on March 22, 2020.
This was not an easy choice to make and was the result of days of deliberation and close consultation with our community and city partners. The culmination of safety, financial, and logistical barriers related to the virus is such that we would not be able to execute the event at the level of quality that our attendees have come to expect. Furthermore, the health and safety of our community is our top priority. We cannot in good conscience ask our volunteers, staff, entertainers and participants to go against local and federal recommendations and put themselves at risk by attending this large event.
We want to thank all of our partners and participants for the hard work that went into planning this event. We are so grateful for your continued support. Seattle's French Fest is a vibrant and exciting celebration that holds a special place in our community, and its cancellation is a disappointment to all of us. Although we cannot replace or reschedule the festival this year, we look forward to finding new ways to celebrate Francophone cultures with our partners. We are confident that the event will return better than ever in 2021.
As you may know, French Fest is the largest event put on each year by France Education Northwest (FEN), a local 501(C)3 nonprofit. If you are willing and able to make a donation to help offset the costs already incurred in the the organization of this event, we would be very grateful. You may make your donation to FEN online. All donations are tax-deductible.
Please help spread the word of the cancellation with your communities, and continue to follow the latest Public Health Recommendations to keep yourselves and your communities safe.