Don't miss the opportunity to learn about SKEMA's rare dual degree program! Graduates receive degrees in two countries at the same time.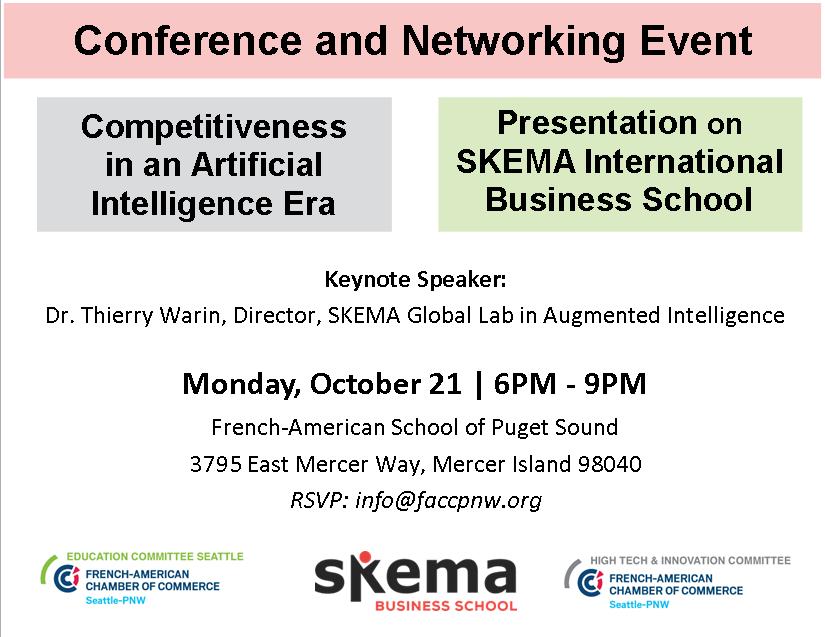 SKEMA Business School is teaming up with our Education and High-Tech and Innovation Committees to offer a conference on competitiveness in an Artificial Intelligence Era followed by a cocktail / networking event. Monday October 21, 2019 from 6PM to 9PM. Please note: this event is restricted to people 21 and older.
Keynote Speaker: Dr. Thierry Warin, Director of the SKEMA Global Lab in Augmented Intelligence.
Agenda
6PM to 6:30PM – Welcome
6:30PM to 6:45PM – Presentation of SKEMA Business School's US Campus and its double degree opportunity for domestic students in the US, by Alice Guillon Dean of SKEMA
6:45PM to 6:55PM – Q&A
7:00PM to 7:40PM –Conference on Artificial Intelligence by Dr. Thierry Warin, Director of SKEMA Global Lab in Augmented Intelligence in Montréal, Canada, Introduction by Marc Wendling, SKEMA Education Foundation President
7:40PM to 7:55PM – Q&A
8PM to 9PM – Cocktail and networking with companies, SKEMA alumni and individuals.
Competitiveness in an AI Era
The AI revolution is without a doubt the new engine of growth across the world. For a country to remain competitive, what are the new drivers of growth? Which countries are the designers of this new great power? What firms or organizations lead the way? What are the challenges for the countries that were the leaders in the 20th century?
To address these questions, Professor Thierry Warin will base his talk on original Data Science techniques, highlighting cutting-edge practices used in academia.