Seattle's French Fest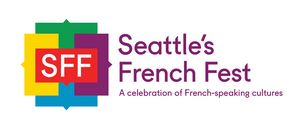 About the Event
Seattle's French Fest is a part of the Seattle Center's FESTÁL cultural event series. This free, public festival celebrates the diversity of the traditions, ideas, dialects, and more, that comprise these Francophone (French-speaking) cultures from around the world. It draws its inspiration from "International Francophonie Day," organized in over 100 countries every March 20, to celebrate the diversity of French-speaking cultures and traditions. French Fest is organized by the nonprofit organization, France Education Northwest, with the support of Seattle Center FESTÁL, the French-American Chamber of Commerce of the Pacific Northwest, and the Consular Agency of France in Seattle.
While France is country most American associate with the French language, there are many other countries and places all around the world where French is spoken. French and several similar dialects are even spoken by groups in the U.S., particularly in Louisiana. The festival aims to embrace the diversity of French-speaking cultures through the types of activities offered at the event. It promotes the French idea of "joie de vivre" through music, dancing, cooking demonstrations, film screenings, wine tastings, a baguette tasting contest, and more. Each year, there are live performances on the main stage featuring traditional dance and music from French-speaking countries or in the French language.
What is Francophonie?
Francophone means French-speaking, and can be used to describe people, cultures, and regions. French is commonly used in over forty countries on five continents. Worldwide, there are 220 million francophones who speak French as the maternal language used in the home, as a daily means of public communication, as the official language used in government and business, and/or as the principal language of education. The term "francophonie," however, describes more than just a linguistic or geographical connection to France. It describes a unifying sense of belonging to and appreciation for Francophone values and culture. When capitalized, "Francophonie" refers to the State and Government institutions represented by the International Organization of the Francophonie.
History of the Event
France Education Northwest (FEN), founded in 2008, is a 501(c)(3) non-profit organization. The organization was started by leading members of Seattle's French American community, including many members of the French American Chamber of Commerce of the Pacific Northwest, to focus on education and promotion of French culture. FEN's founders were particularly driven by a desire to reach out to and inspire youth. While FEN serves these goals in a variety of ways, from cooking classes to visiting local schools, the festival is by far FEN's biggest and most accessible event.
The festival is an important part of FEN's founding mission, acting as a catalyst for our local public, no matter their background, to learn about and share in celebrating French and French-Speaking cultures. The festival first opened in 2013 and has since taken place every year during the spring. Even though the festival is just one-day long, it is one of the West Coast's largest Francophone-themed festivals. For its deep-rooted belief in the importance of appreciating and learning about diverse cultures, Seattle's French Fest is and will continue to be a celebration of French-speaking cultures around the world.