Join FACC Houston for this workshop with Frank Rodriguez, Jr. to improve your negotiation skills, learn tools to aid your communication, and become an expert!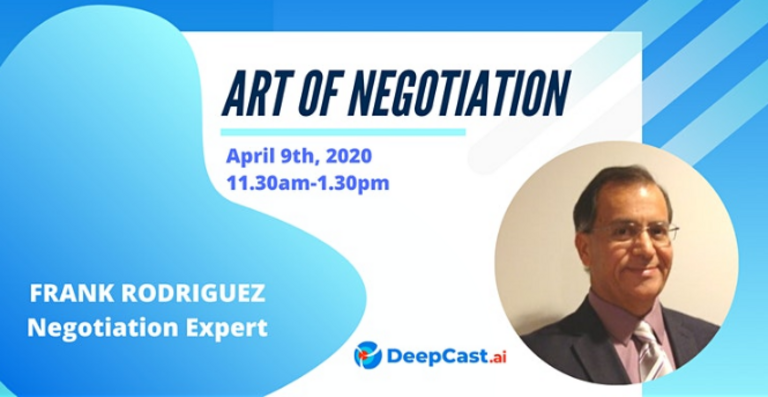 Improve your negotiation skills, learn tools and become an expert!
About this Event
WEBINAR
Join Hangouts Meet
Meeting ID
Phone Numbers
(‪US‬)‪+1 405-353-0547‬
PIN: ‪962 748 037#‬
-------------------------------------------------------------------
Consider subscribing to an FACC Houston membership or to an FACC-PNW membership for complimentary access to events all year long.
-------------------------------------------------------------------
About the workshop:
When it comes to negotiating, what's your approach? Ideally it helps to have a plan before a negotiation activity, however the focus of the workshop will be expanding your knowledge of the criteria to consider when you find yourself in a negotiating situation.
What are the 'elements' to consider in negotiating? What are the fundamentals or 'basics' of negotiating? How does the role of a 'relationship' affect the negotiation? How important is it to 'ask' questions during the negotiation?
About the speaker: Frank Rodriguez, Jr.
About the speaker: Frank is a business development/sales entrepreneur with the following experience: petroleum geologist, natural gas marketer, energy broker, upstream technical recruiting, and upstream technical sales. Frank's negotiated deals on behalf of energy service companies (marketing, upstream technical consulting/technology) to oil & gas operators, from majors to small independents. Frank's current clients include DeepCast.ai (Field/Rate Transient Analysis: Physics-AI), Kingsfield Services (completion chemicals), and CK Polymers (drilling/production chemicals). The workshop will include negotiating scenarios from Frank's experience working in the energy industry.
Who should attend:
· Leaders who would like to improve their understanding of the negotiation process
· Technical personnel interested in learning how to be comfortable with negotiating.
· Aspiring hiring managers seeking new ideas to enhance their overall performance.