Join in for an overview of the 6 major components of the CARES Act with Valérie Demont, Partner at SheppardMullin.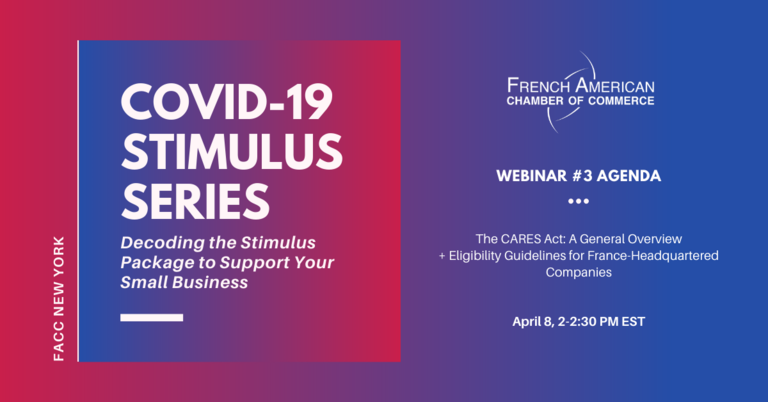 DISCUSSION
During this webinar, you will receive an overview of the 6 major components of the CARES Act, and for each component a presentation of the eligibility guidelines for France-headquartered companies:
Paycheck Protection Program ("PPP")
Economic Injury Disaster Loans ("EIDL")
Payroll Taxes
Tax Credits
Net Operating Losses
Deferral of Tax Deadlines
This webinar includes a 20-minute presentation, followed by 10 minutes of Q&A.
MEET THE SPEAKER
Valérie Demont (Partner, SheppardMullin) leads the French Desk of international law firm Sheppard Mullin LLP. Valérie Demont is a Partner in the Corporate Practice Group in the firm's New York Office
Valérie focuses her practice primarily on U.S. and cross-border mergers and acquisitions, capital markets and securities offerings and corporate governance matters.
She has been involved in numerous mergers, acquisitions, joint ventures and dispositions for corporations and private equity funds in the U.S., Europe and Asia (including India). In particular, she routinely advises foreign companies with the establishment and growth of their operations in the United States.
Valérie also represents U.S. and non-U.S. issuers and underwriters in a wide range of primary and secondary capital markets and securities offering financing transactions involving equity, debt, convertible and hybrid securities. These transactions include IPOs, private placements and offshore securities offerings and the establishment of American Depositary Receipt (ADR) programs.
She handles complex securities and financing transactions, including debt restructurings, exchange offers, debt tender offers and consent solicitations.
In addition, Valérie regularly advises companies on their reporting obligations under U.S. securities laws as well as corporate governance and other compliance obligations under the Sarbanes-Oxley Act and stock exchange regulations.
Valérie is a frequent speaker at events focused on cross-border trade and has written or contributed to several publications.