Get the legal and communication advice/best practices from Faurecia's General Counsel and Communication Director followed by a Q&A.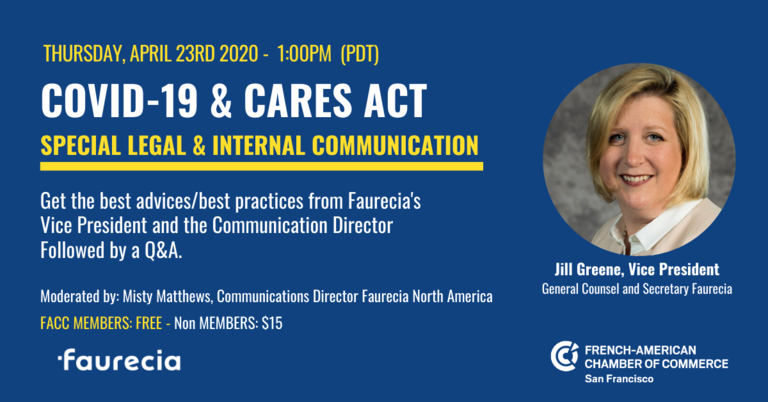 Please join Jill Greene, Vice President General Counsel and Secretary from Faurecia, for a fireside chat about how to navigate COVID-19 and the CAREs Act on Thursday, April 23rd at 1PM PDT.
Through a question and answer format, Mrs. Greene will shed light on how you and your business can approach the different challenges that COVID-19 brings.
During this webinar, you will learn:
CARES Act – understanding and applying the CAREs Act
Employee Benefits – how do they affect the CAREs Act?
Communication to customers, suppliers, and employees – what do you need to consider?
About the Speaker: Jill Greene
As Vice President & General Counsel of Faurecia North America since 2016, Jill Greene oversees Faurecia's regional legal initiatives and plays a critical role in strategic company activities such as Mergers and Acquisitions. Since her appointment, Jill has positioned Faurecia North America's legal department as a go-to resource for executives and manufacturing divisions. With team members based in the United States and Mexico, Jill understands the value of building a cross-border talent inventory and regional alignment. Jill is also a member of Faurecia's North American management team and a board member of Total Network Manufacturing, LLC., a Faurecia joint venture in Chattanooga, Tennessee.

She is an active supporter of women's networking initiatives and participates in numerous industry events promoting the advancement of women in manufacturing. Jill earned her J.D from the University of Denver's Sturm College of Law where she finished in the top five percent of her graduating class and earned a B.A in Asian Studies and Political Science from Minnesota's St. Olaf College.