Join FACC-NY for a workshop with Michelle Mielly, Academic Director and International Development at Grenoble Ecole de Management on Social Distance, Diversity Management & Virtual Teams: Managing Team Dynamics in a Time of Uncertainty.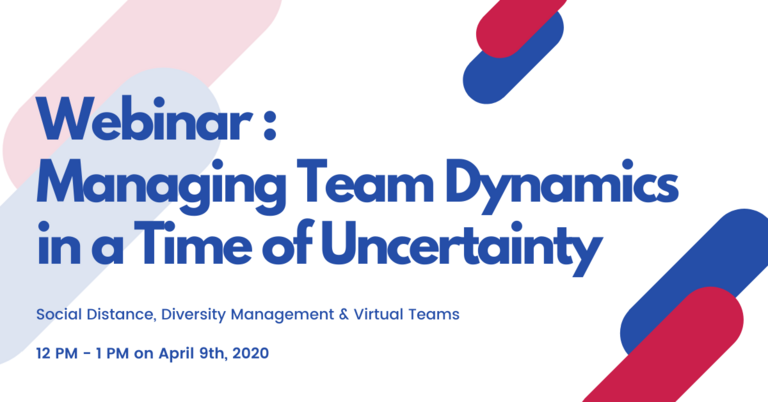 DISCUSSION
Professionals around the globe are all massively transforming the way that they work together as we move to hermetic workspaces in our homes during lockdown and measures to maintain social distance. Interestingly, all of the research on virtual and geographically distributed teams has centered on closing the 'social distance' gap by virtual means. This is the time for us to think about what it means for our working days, work habits, and new lessons from COVID-19.
Whether during a pandemic or in other periods, have you ever noticed that working in teams does not always go as projected, often due to questions of diversity? Have you already perceived the underlying complexity and challenges of teams you are a member of or teams you are managing? Have you ever wondered why a 'no' doesn't mean 'no', and a 'yes' does not mean 'yes'? Have you found yourself feeling frustrated with professional situations that occur frequently with colleagues or partners from other countries? Finally, do you have any examples to share or to examine as cases?
We'll review the multiple aspects of migrating all of our work online, how group diversity (cultural, cognitive, social) intersects with virtual work, and how it may contribute to misunderstandings, as well as excellent lessons in leadership. In this workshop, you'll get to work on your own unique 'Cultural Profile' to determine your working preferences, and then we'll review some of the major dimensions of culture relevant to teams and their managers to see where you stand. Finally, we'll work interactively on culture-specific critical incidents to find creative solutions to interpreting and reacting to our diverse, international, and interesting work environments.
MEET THE SPEAKER
Michelle Mielly is an American development anthropologist and interculturalist, active in international education. Her work in West Africa, Central America, and Europe has consistently focused on issues linked to identity, diversity, and community and explores how identity intersects with different organizational and cultural environments. Her research includes work on organizational diversity, migration, self-initiated expatriates, nomadic entrepreneurs, foreignness and strangeness in organizations, and gender-related questions of leadership & professional mobility.
Michelle is currently serving as Interim Director of Grenoble Ecole de Management (GEM)'s Doctoral School and has served since 2013 as academic director for the Switzerland program, the USA program, and the India program. She is also responsible for the development of the Doctoral School's presence in the United States and the upcoming opening of a part-time doctorate in management on Pace University campus.
In addition, she works closely with a number of start-ups and SMEs to coach their leaders and teams through integration processes in M&A contexts. Her teaching includes courses on Intercultural Management, International HRM, Business Ethics, International Negotiation, Research Methods, Global Work & Distributed Business Teams, Western Intellectual History, and Leadership. Michelle holds degrees from Southwestern University (B.A. Hons 1989), Université de Grenoble (Maitrîse1991), Pennsylvania State University (M.A.), and Harvard University(Ph.D.)