Event report • Committees Aéronautique - Aérospatiale
AKKA and magniX host Aerospace Committee at K&L Gates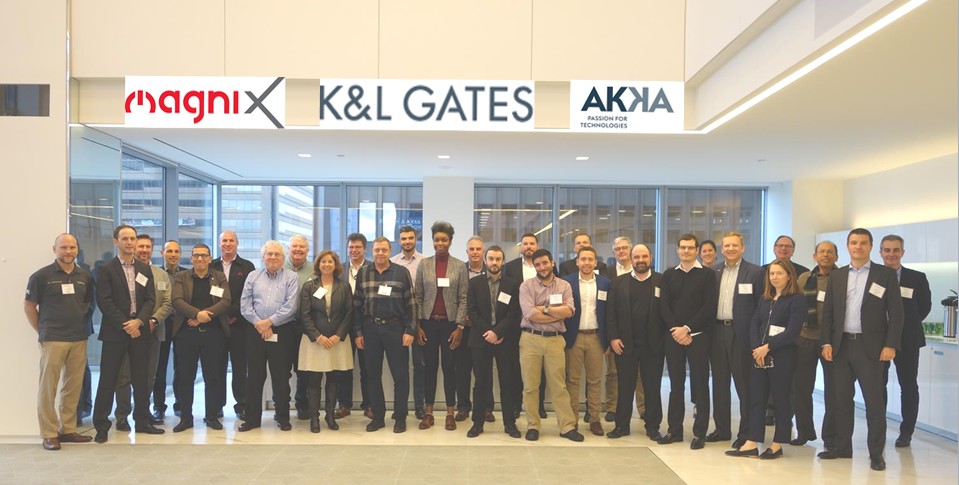 More than 30 attendees representing around 20 different companies discovered the potential future of aerospace as seen by representatives from three different innovative companies: AKKA, magniX and ZEVA Aerospace.
Aerospace Committee Meeting Report
January 30th - Seattle, WA
Hosted by AKKA & magniX
at K&L Gates LLP
The Aerospace Committee Meeting was introduced by Jean-Michel Hillion, Corporate Senior Vice-President at Safran and Chairman of the FACC-PNW Aerospace Committee.
Below is a summary of what each of the speakers presented.
Panel: Innovations in Aerospace
Ferréol Marande, Senior Vice-President Sales at AKKA, on AKKA Research projects:
Mr Ferréol Marande firstly made an overall presentation of the AKKA company and its worldwide presence in 135 locations. He then talked about AKKA Research, the internal innovation branch of AKKA, and more specifically about two projects: Link&Go, an autonomous electric car, and Link&Fly, a game-changing aircraft design featuring a removable cabin module. These projects demonstrate new dynamics from the service provider by promoting its own innovations and new technologies.
Roei Ganzarski, CEO of magniX and Chairman of the Board at Eviation, on their 2019 achievements and hopes for the future:
Mr Roei Ganzarski presented magniX's new solution for powering flight, all electric with less noise and no emissions. The magniX company is completely focused on providing electric engines, and the same goes for Eviation as an airframer. The video "First flight from the eyes of the CEO" shows how the magniX team succeeded in transforming the way aircrafts are powered. Their unique project emerged in February 2019, so it took them less than one year to create a complete electric engine. When the airplane first flight succeeded in December 2019, Roei Ganzarski talked about a 'change in the industry'.
Andrew Balerud, Marketing Director at ZEVA, on their eVTOL aircraft:
ZEVA's personal air vehicle has been designed by 25 people as part of the GoFly challenge that will take place on Leap Day, February 29th, 2020 and during which they hope to win the $2 million prize. This aircraft complies with challenging requirements from GoFly and could become the future of urban mobility by providing individual point-to-point transportation, without any detour. While air taxi services might begin as soon as 2025, ZEVA also believes in personal eVTOL ownership for 2035.
Upcoming Events
Lydie Ngoie, Project Manager USA at BCI Aerospace, presented the upcoming
Aerospace & Defense Supplier Summit | April 6-8, 2020 in Seattle, WA.
ADSS allows to connect small & medium businesses of the supply chain and service providers in a highly beneficial summit, when more than $1 million dollar of investments are raised at each yearly event.
Jack A. Cowan, Executive Director of the FACC-PNW, presented the upcoming events relevant to the FACC-PNW members. Click on the following links to discover more:
Feb. 3-6: PNAA ADVANCE/2020 - 19th Annual Conference
Feb. 3: Invitation - PNAA International Reception 5:30pm-7:30pm
Feb. 12: Life Science Committee Meeting
Feb. 13: Le Networking Committee Meeting
Mar. 22: French Fest
Apr. 6-8: ADSS - 5th edition
Jun. 3: SEAAF - 2nd edition
Jun. 4: Jack's retirement party
A message from Jack A. Cowan: "After 25 years as the Executive Director of the FACC-PNW and 22 years as the Honorary Consul of France in Seattle, I will retire on July 30, 2020. I appreciate the support of the French-American Business Community over these many years and I will treasure the friendship and relationships I have had with many of the members. I will remain in the Seattle area after my retirement."
---
Thank you to AKKA and magniX for sponsoring this committee meeting, and to ZEVA aerospace for participating in the panel. Thank you to K&L Gates for providing the meeting space. And thank you to all of our committee members for your sharp questions and attentive engagement in the discussion. Interested in attending an Aerospace Committee meeting or in hosting? Please contact info@faccpnw.org.