Cinessance.com, the Netflix of French cinema just launched in the United States and Canada!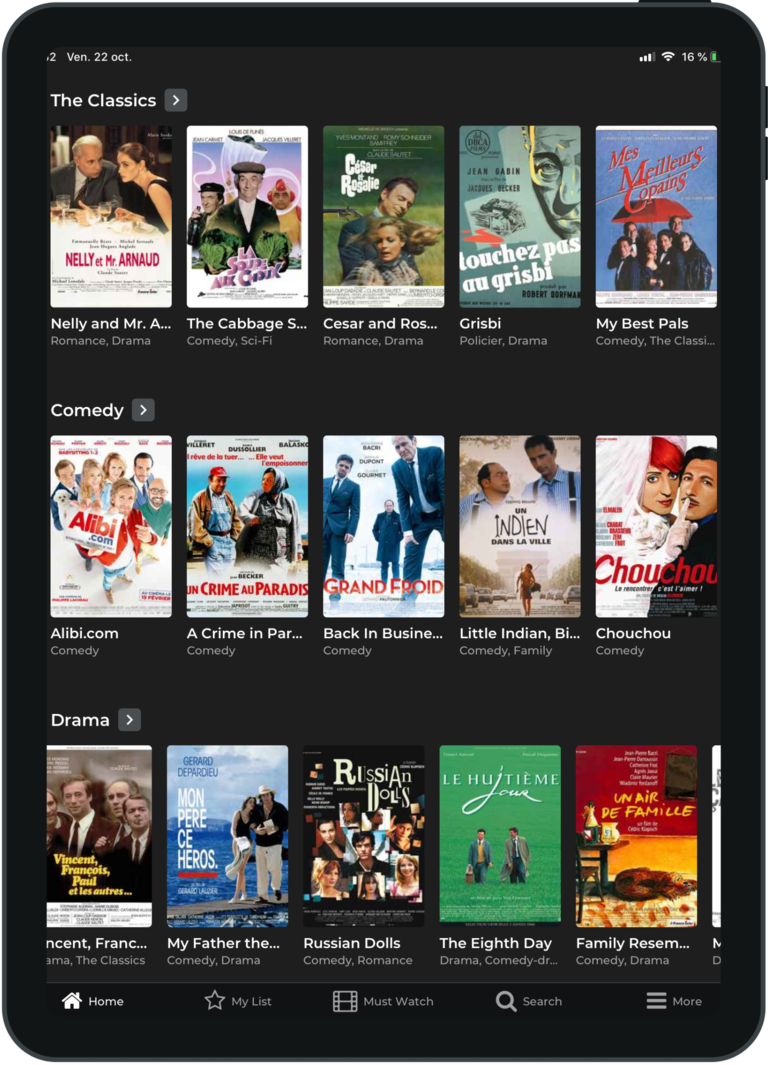 Breaking news for all fans of French cinema and culture, Cinessance, the first streaming platform 100% dedicated to French cinema, is live!
About a hundred films are already available from launch and the catalog will grow in the coming weeks. You will find on Cinessance the great classics of Audiard with Jean Gabin, Lino Ventura, Bernard Blier, the masterpieces of Claude Sautet with Romy Schneider, Yves Montand, Michel Piccoli, Emmanuelle Béart, the popular French actors like Gérad Depardieu, Catherine Deneuve, Jean Dujardin, Audrey Tautou, as well as recent films like the last Cédric Klapisch Deux Moi, Roxane or Alibi.com without forgetting hilarious comedies like Four Hopefuls, Good Old Daze, Tanguy or What a Drag.
Cinessance is available on the web, iOS, and Android since November 16. Subscription starts $6.99 / month or $69.99 / year.
Additional movies are available on pay-per-view options.
SUBSCRIBE NOW and enjoy a one-month free trial with the coupon CINEFACC.
Who is behind Cinessance?
Clément Monnet is a French serial entrepreneur based in San Francisco, who's lived across four continents - Europe, Asia, South America and North America. During his tenure in the United States, Clément had the opportunity to create new businesses from scratch including Voom, the "Uber for Helicopters", incubated by Airbus, Skydex (now Altaport), an "Airbnb for helipads", and now Cinessance, the "Netflix of French film" for all the francophiles, francophones, and movie fans in the world.
Fascinated with technology, cinema, sport, and politics, Clément holds a certificate in Product Management and a Masters in Business and Administration. In his free time, he is either watching films or flying Cessna 172 aircrafts.
He is working with a core team of advisors and early investors in strategic disciplinest
- Chris Allexandre - Early Investor. LP at Diaspora Ventures, Board ember at Villa San Francisco, SVP at Renesas Electronics
- Evan Tahler - Technology Advisor. CTO of Grouparoo, former CPO of Voom, and former Director of Technology at TaskRabbi'
- Arnaud de Fontenay - Industry Advisor. Former General Manager of the fondation Jérôme Seydoux-Pathé, and former VP of Legal & Business Affairs
at Chez Wam, the production company of famous comedians Alain Chaba'
- Julien Etaix - Financing Advisor. Currently Chief Investment Officer at Singe Family Office, Venture Lead at Inovexus, and former Investment Manager at UpFront Ventures