Tourisme - Loisir - Culture
Exhibition in Nantes: Nature Native from Seattle to Nantes Graphismes Amérindiens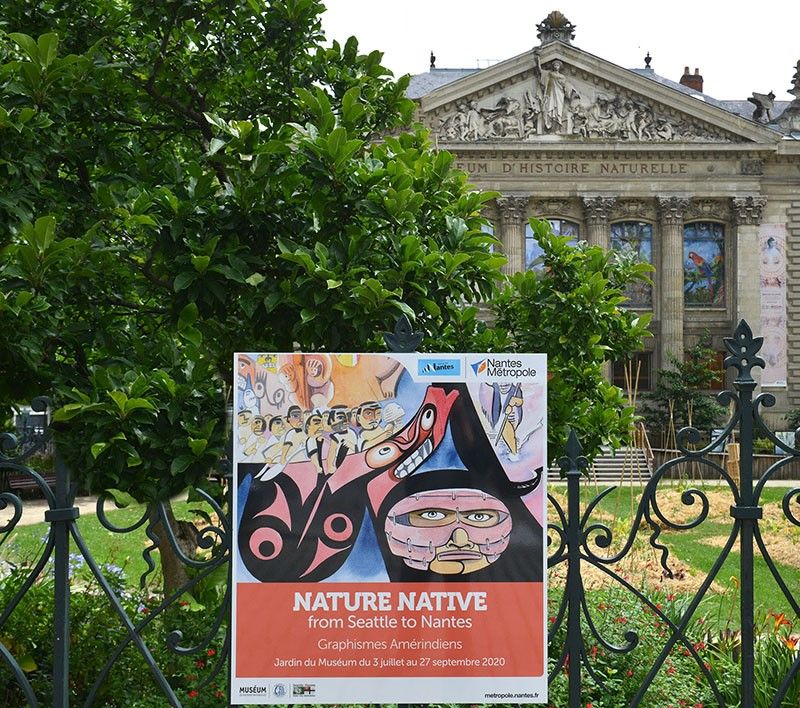 NATURE NATIVE from Seattle to Nantes is an exhibition from PNW Native American artists which deliver a message of friendship and hope to Nantes.
The Seattle-Nantes Sister City Association (SNSCA) is pleased to announce Nature Native from Seattle to Nantes Graphismes Amérindiens. The exhibit, which is on view outdoors in Nantes until Sep 27, is a collaboration between SNSCA, Ville de Nantes/Nantes Métropole, and the Muséum de Nantes.
Four amazing native artists have contributed digital photos of their carvings and prints: Joe Seymour Jr (Squaxin Island/Pueblo of Acoma), Alex McCarty (Makah), Peter Boome (Upper Skagit), and Micah McCarty (Makah). In addition, Michael Nicoll Yahgulanaas (Haida) has contributed excerpts from his Red: un Manga Haida, which was recently published in French by Les Éditions du Pacifique Nord-Ouest.
As the whole world faces a crisis that requires us all to work together, sister city relationships like ours that foster global understanding, friendship and peace are more important than ever. With this exhibit we send a message of solidarity and hope to the people of Nantes from the people of Seattle.
If you are lucky enough to be able to travel to Nantes this summer, please enjoy this beautiful exhibit and send to Seattle Nantes Sister City Association your photos!
Nantes Museum: https://museum.nantesmetropole.fr/cms/render/live/fr/sites/museum/home/au-programme/evenements-1/autres-venements.html
Follow Seattle Nantes Sister City Association: https://www.facebook.com/SeattleNantesSCA