Committees Aéronautique - Aérospatiale
Save the Date for SEAAF 2020!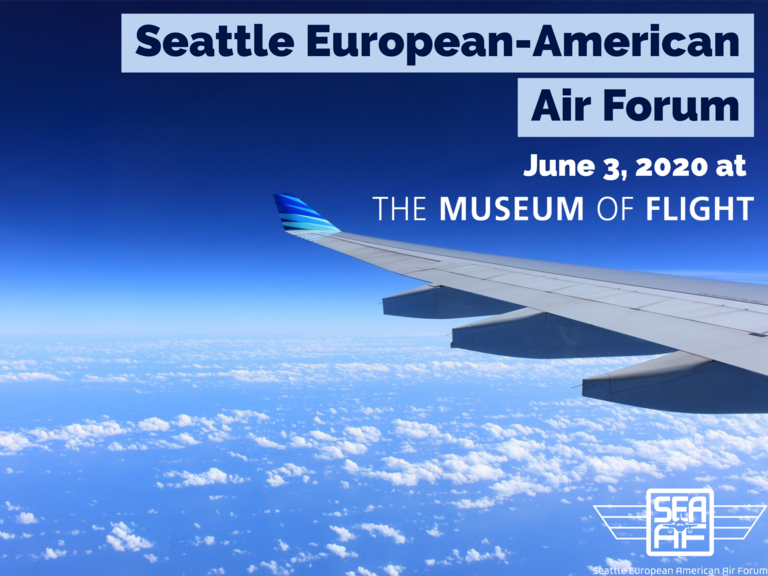 The 2nd edition of the Seattle European-American Air Forum (SEAAF) will take place on June 3, 2020 at the Museum of Flight. Find out why WA is a leader in the aerospace industry! Don't miss out on this exciting conference exploring innovation in one of the most important local and global industries.
In light of the ongoing disruptions and innovations affecting global trade flows, the French-American Chamber of Commerce of the Pacific Northwest gathers experts on a yearly basis to discuss the trends and to address the challenges shaping the evolution of the Aerospace Industry.
This all-day air forum is the 2nd edition and will feature panel driven discussions, breakfast, lunch and reception.
Creative Disruption in Aerospace
Evolution of trade environment, production systems and regulations
Keywords: Trade, OEM, Suppliers, Certification, Disruption, Environment
Panels will address the following topics:
The comeback of localization in the air trade:
Could future markets be silos in the making?
Is global certification dead?
How innovation and international politics will transform certification processes?
Brace yourselves, new production systems are coming:
Implications & transformations at every level.
How green is the Aerospace industry, how much greener it has to become, and how it will?
With the aim of encouraging openness of discussion and facilitating the sharing of information, the Seattle European-American Air Forum is held under the Chatham House Rule: "Participants are free to use the information received, but neither the identity nor the affiliation of the speaker(s), nor that of any other participant, may be revealed."
Date: June 3, 2020
Time: 8:30 a.m. – 6:30 p.m.
Location: The Museum of Flight – Skyline Room, 9404 E Marginal Way S, Seattle, WA 98108
Agenda, Registration: To be announced here
Dress Code: Business Casual