Second edition of the Seattle European-American Air Forum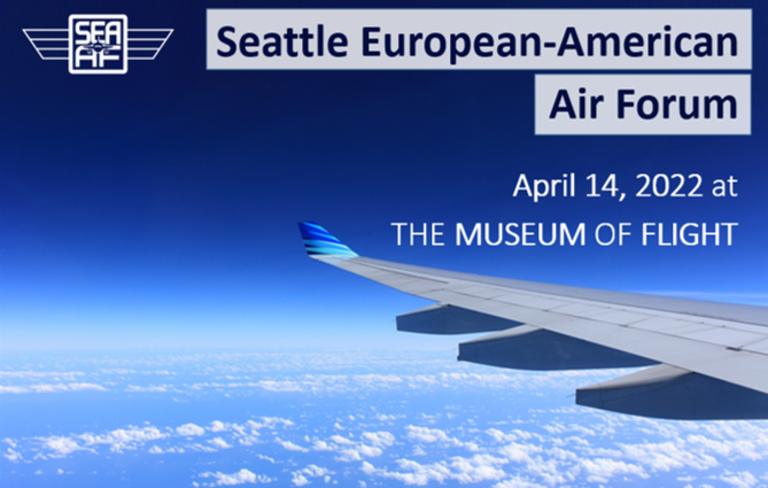 The FAAC has gathered experts across the international aerospace industry to address the challenges facing the aviation industry today and tomorrow.
More than 100 people attended the second edition of the Seattle European-American Air Forum at the Museum of Flight, on April 14th.
The second edition of this all-day air conference featured five sessions of panel driven discussions, including breakfast, lunch, and a reception.
Ken Herbert, Managing Director at RBC Capital Markets, moderated the first panel dedicated to the 2030 Supplier's profile. William Cecil (Director Aircraft Data & Edge Solutions at FLYHT), Janene Collins (VP Supply Chain Contracts & Sourcing Commercial Airplanes at Boeing), Nitin Khanna (Partner – Aerospace & Defense Global Lead at Cognitus) and David Sanguin (Boeing Key Account Director at Constellium) exchanged their expertise to enlighten us on what the supplier's profile will look like in 2030 as the aerospace market is constantly changing.
On the OEM discussion panel moderated by Ron Epstein (Managing Director Aerospace & Defense at Bank of America Merrill Lynch), Bob Lange (SVP Head of Business Analysis and Market Forecast at Airbus) and Darren Hulst (VP Commercial Sales & Marketing - Asia Pacific at Boeing) cross-shared their vision on market requirements and airplanes replacement for the next 20 years in the context the Industry Carbon Neutral commitment by 2050 and explained what are the passenger expectations in term of air travel evolution (airport access, aircraft comfort and configuration, communication, flight carbon footprint, etc.).
Francois Guerzeder (President of the Aerospace Committee at the FACC PNW and SVP Boeing Programs at Safran) moderated then the Climate & Sustainability panel. Jean-Michel Hillion (Group SVP Strategy at Safran group), Diana Birkett Rakow (SVP Public Affairs and Sustainability at Alaska Airlines) and Brian Yutko (VP and Chief Engineer, Sustainability & Future Mobility at Boeing) explained how the industry should evolve in rder to meet 2050 carbon neutral commitments. They discussed about the means and tools, sustainable Aviation Fuel, Electrical, Hydrogen, New Air Mobility and how we can address the Aviation bashing.
On the Workforce & HR Attractivity panel, Paul Sahatdjian (CEO at Saxon Aerospace US) invited Christine Hadley (Corporate Social Responsability Director at Safran Cabin), Alex Krutz (Managing Director at Patriot Industrial Partners), Jason Petrait (Executive Director at Center of Excellence for Aerospace & Advanced Manufacturing), and Robin Toth (Governor's Sector Lead Director of Aerospace at Washington State Department of Commerce) to discuss vision, culture, recruitment and retention strategies, along with ideas that companies can do to improve their overall workplace for their employees.
The program concluded with an analysis of the international aerospace market in midterm future on the Reshaping International Trade panel. Glenn Farley (former journalist at King 5) and panelists Michel Merluzeau (Director, Aerospace & Defense Market Analysis at AIR Inc), Nelson Dong (Partner at Dorsey & Whitney LLP) and Cameron Johnson (Head of APAC Strategy at FAO GLobal) who joined us live through Zoom from China, explored how to take into account the rise of the Chinese supply chain and how to address challenges due to the Ulkrainian context.
A huge thank you to our sponsors Dassault Systemes, Liebherr, Safran, and the Washington State Department of Commerce for their support.