In light of the current COVID-19 situation, we have made the difficult decision to cancel the 2020 edition of Seattle Center Festál: Seattle's French Fest: A Celebration of French-Speaking Cultures, which was due to take place on March 22, 2020.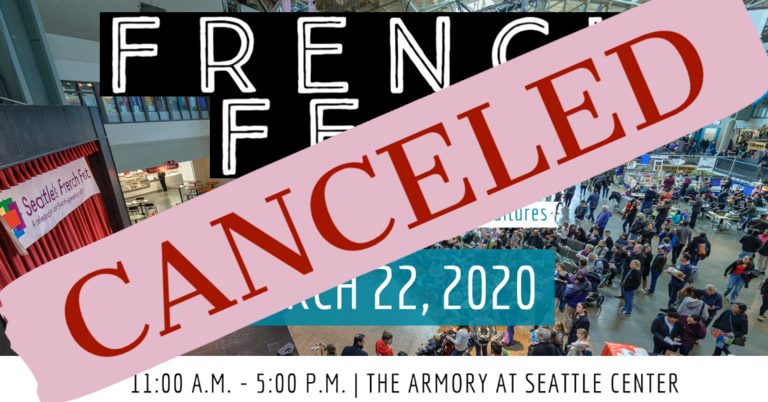 This event has been cancelled. We look forward to seeing you next year at the 9th annual festival in March 2021. Read the full cancellation press release.
Inspired by the worldwide "Day of Francophonie," this free, public festival is open to all as part of the Seattle Center's Festàl series. At the event, festival-goers of all ages have an opportunity to enjoy many activities – all with a "French" twist: wine tastings, live music, theater and dance performances, French cuisine, book sales, informative seminars and demonstrations, "best baguette" contest, games and more.
Schedule
Sunday 22 March 2020

| | |
| --- | --- |
| 11:00 - 11:20 | Bienvenue and Les Lilas Choir (MAIN STAGE) |
| 11:30 - 12:15 | Gansango Music and Dance (MAIN STAGE) |
| 12:30 - 13:00 | Opening Ceremony (MAIN STAGE) |
| 12:40 - 12:55 | History of Slam Poetry (in English) w/ Catalan Slam Poet Annalisa Mari Pegrum (LOFT #2) |
| 13:00 - 14:00 | International Slam Poetry Contest (in French/English + all languages accepted for the contest) with French Slam Poet Sébastien Gavignet (LOFT #2) |
| 13:05 - 13:15 | North Seattle French School Choir (MAIN STAGE) |
| 13:20 - 13:50 | Alliance Française de Seattle Choir (MAIN STAGE) |
| 14:00 - 14:30 | Te O Fare Tomatoa (MAIN STAGE) |
| 14:45 - 15:30 | Filé Gumbo (MAIN STAGE) |
| 15:40 - 16:30 | The Happy Sinners (MAIN STAGE) |
| 16:45 - 17:00 | Closing Ceremony (MAIN STAGE) |